The beach and I have never been fond of one another. My mom recounts that, as a child, I used to carefully spread my towel around me in order to keep the sand off; I hated the feeling of it. In high school, when all my friends wanted to tan on the beach, I panicked, fearing the inevitable, painful burn that would soon result from the hours they wanted to spend in the sun. I learned to love the umbrella in order to keep my sanity, and lo, I actually began to enjoy myself! Since growing up and older, I still diligently wear a hat and put on SPF 85 every day (ok, now 50) but have learned to appreciate the occasional walk on the beach and even rarer dip in the ocean.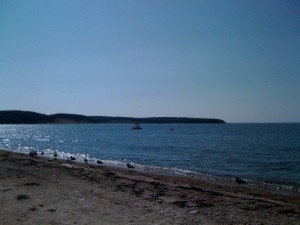 The beach on a calm, tranquil day.
That was until recently, when I managed somehow to get injured amongst the waves in East Hampton. I was laid up for days with doctor-diagnosed whiplash and am only now able to sit up all day and function properly, sort of. The first night I was home, the most painful, my friend Marisa came over with her waffle-maker in tow. As I laid on my heating pad, she maneuvered her way through my kitchen, washing dishes, chopping up berries, and making the most delicious whole wheat waffles I've ever tasted. She would not share the recipe publicly, but I've been able to find a near approximation here (with the exception of the use of flax seeds).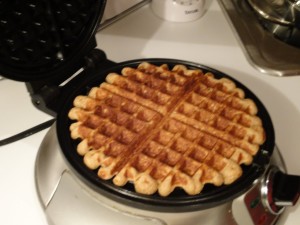 Delicious, healing waffles.
Marisa, thank you for being so lovely to me!