So, I am moving at the end of October, which means it's time to start eating through the goods that I've been keeping in my pantry and fridge. This includes the boiled peanuts that my father made and sent up at the beginning of the summer and that have been sitting in my freezer ever since until the right moment presented itself. And when it didn't, I made up a reason to enjoy them, putting together a little Southern-inspired get-together last weekend for some friends.
I discussed the menu with my mother, and together we made sure to include all the basic classics of a cocktail party, as well as to throw in a few surprises. Cucumber sammies, the peanuts, oven-fried green tomatoes, and pimento cheese were the standards (I made the latter with jalapeños, in honor of the entire Tupperware container Ben once ate at Bonnaroo), while bacon-wrapped saltines were a total curve ball for my repertoire… apparently, they were a favorite of my grandmother's when my mom was growing up? I hardly believe it, since she's the tiniest woman I know, but then again, they were delicious. And the coup de grâce? A few different flavors of homemade ice cream.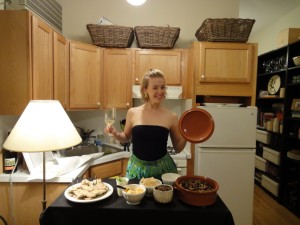 Ready for guests to arrive.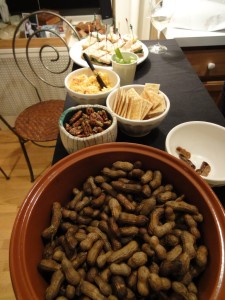 Cucumber sammies, pimento cheese,
thyme-dusted pecans, and boiled peanuts.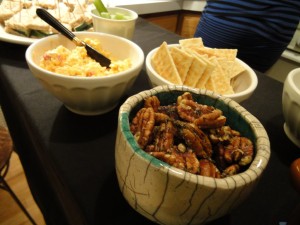 These nuts are always a party hit.
So is the cheese spread until people ask what's in it…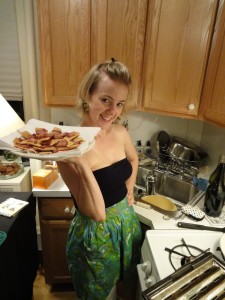 Here's a curveball — bacon-wrapped saltines.
Who knew they were a delicacy… and that teeny little Nena loves them?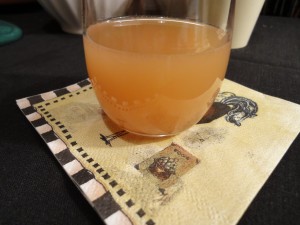 Cocktail of the evening: Brown Derby, with Evan Williams single barrel bourbon,
Sourwood honey made by Terrie O'Neal, grapefruit juice, and a dash of agua.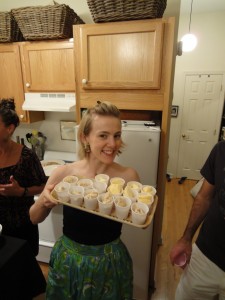 Ended the evening with pre-batched, homemade ice creams:
Peach and Peanut Butter Honey (inspired by Camp DeSoto).
An almost recipe for pimento cheese:
Start with a block of sharp cheddar and grate it. The finer the grater, the less mayo you will need to bind it.
Get a small jar of pimentos and remove them from the oil or water they are preserved in – start with half the jar, then go from there, as you don't want overkill on the peppers. You may want to rinse, depending. Chop into small chunks, and throw into the

cheese

.
Get a jar of jalapenos and chop a few into really fine chunks – this will totally depend on how spicy you like it, so taste as you go BUT don't forget the secret ingredient: jalapeno juice, which you'll add after the next step
Add two spoonfuls of mayo to start with, then a little more at a time until it is no longer crumbly. I don't like too much, just enough to make it a spread
Add two teaspoons of jalapeno juice to start, mix in, then more to taste.
Add lots of ground pepper and ta da! (no salt needed)