Cold weather means soup. I eagerly await the onset of fall each year so that I can begin throwing things into a pot, testing new ideas that will last me throughout the week. Both soul-satisfying and easy on the wallet, my favorite soups tend to be little more than vegetable purees, flavored with just a touch of spice, oil, or something else special.
After a delicious, pizza-filled lunch, I decided to prepare something light and easy for my aunt and me on my last visit to East Hampton of the season. Although the day had been rather hot, it had cooled off by nightfall, so I had soup on the brain. I'd been inspired by a recipe in the most recent Bon Appétit, so I set to work making us a light and delicious dinner. Topped with a handful of chives and a splash of oil, this cauliflower soup was about as hands-off and easy as anything gets.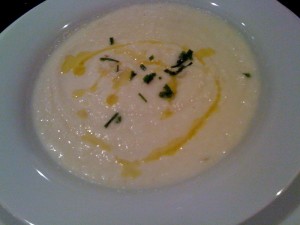 Delicious and ready to eat.
Cauliflower Soup
1 head of cauliflower, with leaves and central stem removed (keep head intact)
4 tbsp of butter (2 for the cauliflower, 2 for the pot)
1 small yellow onion
2 cups water
A dash of light cream
Salt and pepper to taste
Preheat the oven to 450˚F. Rub 2 Tbsp of butter into the top of the cauliflower, place in the baking dish with about a half a cup of water. Bake in oven, lightly covering with tin foil once it begins to brown, for about an hour. Remove from heat and let cool, then coarsely chop.
In a soup pot, melt remaining 2 Tbsp of butter and add minced onion; sauté until translucent. Then add the cauliflower and about 4 cups of water, until almost covered. Bring water to a boil, then reduce heat and simmer, covered, for about ten minutes, or until cauliflower is soft.
Purée the soup in batches in a blender (or entirely with an immersion blender), add a dash of light cream and salt and pepper to taste. Garnish with freshly chopped chives and a dash of olive oil; serve hot.