In the aftermath of our epic move (the last few items, sofa included, were schlepped during the only snowstorm before Halloween in recent memory), I wanted nothing more than some easy, delicious, and hearty. I had plenty of lentils and rice, a little bit of duck stock, and with Fairway down the street to pick up a little Italian sausage, we ate healthily and heartily for days.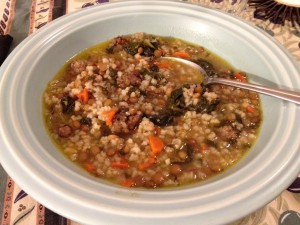 Hearty Lentil and Sausage Soup
1 lb. sweet Italian sausage
, casing removed
Extra-virgin olive oil

2 carrots, chopped
1 large yellow onion, chopped

1 tsp. cumin
1⁄2 tsp. dried thyme

1 tsp. Aleppo pepper
6 cups broth

1 cup long-grain brown rice, rinsed

3⁄4 cup brown lentils, rinsed

Kosher salt and freshly ground black pepper

1 package frozen spinach, thawed
Remove sausage from its casings. Heat oil in a 5-quart pot over medium-high heat; add sausage and cook, stirring and breaking it up into small pieces, until browned, about 6 minutes. Using a slotted spoon, transfer sausage to a plate.
Add carrots and onions, along with spices. Cook, stirring, until lightly browned, 10–15 minutes. Add reserved sausage, chicken broth, rice, and lentils and season with salt and pepper to taste.
Bring to a boil, lower the heat to medium-low, and cook, partially covered, stirring occasionally, until rice and lentils are soft, about 45 minutes. Stir in spinach and cook about 1 minute.
Recipe adapted from SAVEUR.com