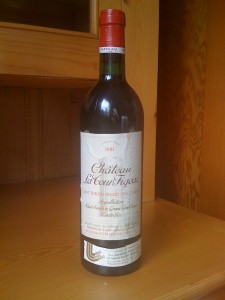 This wine from St. Emilion on Bordeaux's right bank is predominantly of merlot and cabernet franc. It's a Grand Cru Classé, a second tier wine from St. Emilion's 1954 classification. The area is full of hillsides with limestone outcroppings and plateaus, along with gravelly terraces: the soil a hodge-podge of clay, sand, quartz, and chalk.
I decanted the wine two hours before we planned to drink it. The cork crumbled as we tried to pull it out, so we pushed it in and poured the wine through a coffee filter into a cut-crystal vase. The wine was a garnet, rusty color, with a nose of stewed fruit, earth, and fruit leather.
Two hours later, the nose had burst open into notes of dark berries and prunes. On the palate, it was brighter, ripe with fresh berry notes and a tangy finish.
Beautiful paired with blue cheese, such as a quiche au Roquefort.
4 out of 5 stars.