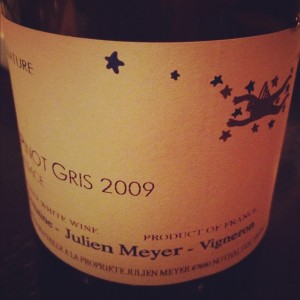 Change in season. The older I get, the harder it is for me to cope with the turn of cool to warm, hot to cold again, overcome by barometric languor. One thing that helps me to cope is the delicious variety of fall whites that I suddenly start to crave. The nutty, slightly oxidized flavors of this rich, strange Alsatian pinot gris were the perfect fall into, well, fall.
Patrick Meyer, the son of the founder, has embraced biodynamic practices, and a quirky nature shows through in this wine. It's not a typical Alsatian pinot gris: the honeyed, medium-rich nectar rests delicately on the palate, its richness sitting warmly in the mouth, yet brightened by the minerality and acidic backbone typical of the region's wines. The perfect wine to carry me into autumn.
4 out of 5 stars.
Imported by Costello Wines.