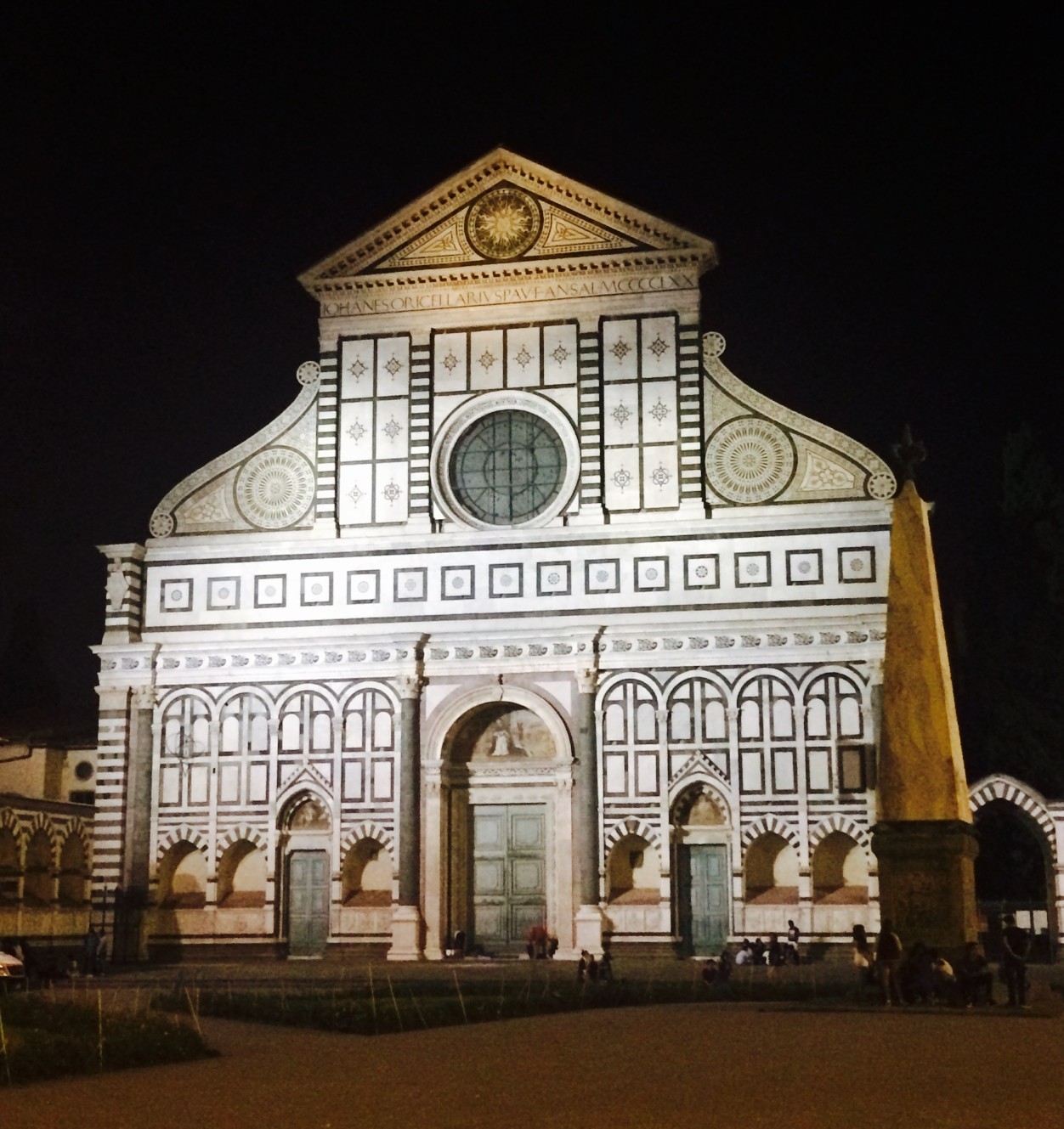 After a few days on Etna, I flew north to see my mother in Florence, there with her garden club from Atlanta (it was a long day, with planes, trains, and automobiles in between after I missed the one direct flight from Catania to Florence that day). I arrived hot and sweaty at the Croce di Malta hotel right off the piazza Santa Maria Novella, showered, and hurried to meet mom and her friends at Buca Lapi on the nearby via del Trebbio.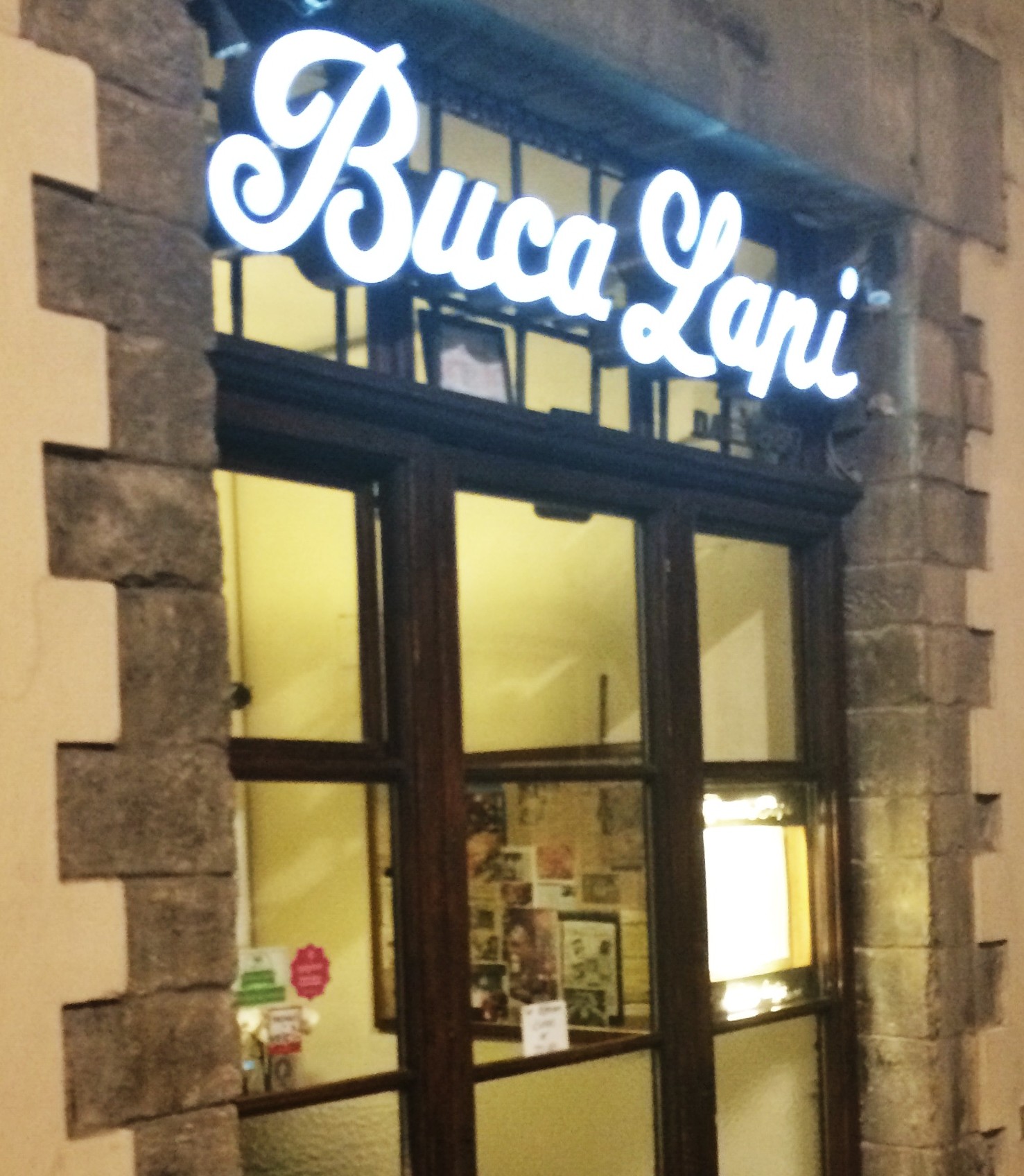 A Florentine mainstay for generations, set beneath the old palazzo Antinori, we of course ordered the bistecca alla Fiorentina, with its meat running red, along with a succulent veal chop and a primo of pasta with a succulent rooster sauce, all paired with a lovely Dolcetto d'Alba that I asked to be served chilled, given the terrible humidity outside. By the time the desserts came around, we were amongst the last left in the restaurant, and I befriended the owner, who brought out his hand-ground cacao for us to smell, a necessary ingredient for his flourless chocolate cake (whose recipe he sadly would not share). He did however share with us a lovely bottle if Rosso di Montalcino to take home as a gift, which I can't wait to open once I'm back in the States.
The next day, we headed out of town by car, visiting first the medieval (and very touristy) town of San Gimignano, then heading down the raccordo to Montepulciano, about 45 minutes south of Siena. Realizing we were in the verge of missing lunch (heaven forbid we miss a meal!), I frantically searched for something we might get to by the witching hour. I landed on a lovely review of a place called La Botte Piena in Montefollonico, a small town about 20 minutes north of Montepulciano. I called ahead to see whether, if we arrived right at 2:30, they would stay open for us. We raced down the highway to get there, pulled up to the town's gates, and practically ran up to the restaurant door. We passed through the lovely bottle shop to the piazza out back, and fortunately there were others lingering over their meals. We ordered a few antipasti to share — a sformato of funghi porcini and potatoes as well as bruschetta with local cheese and honey — then between us tasted a tagliatelle with wild boar sauce, homemade pici with ground duck and thyme, and a guinea fowl served with grapes.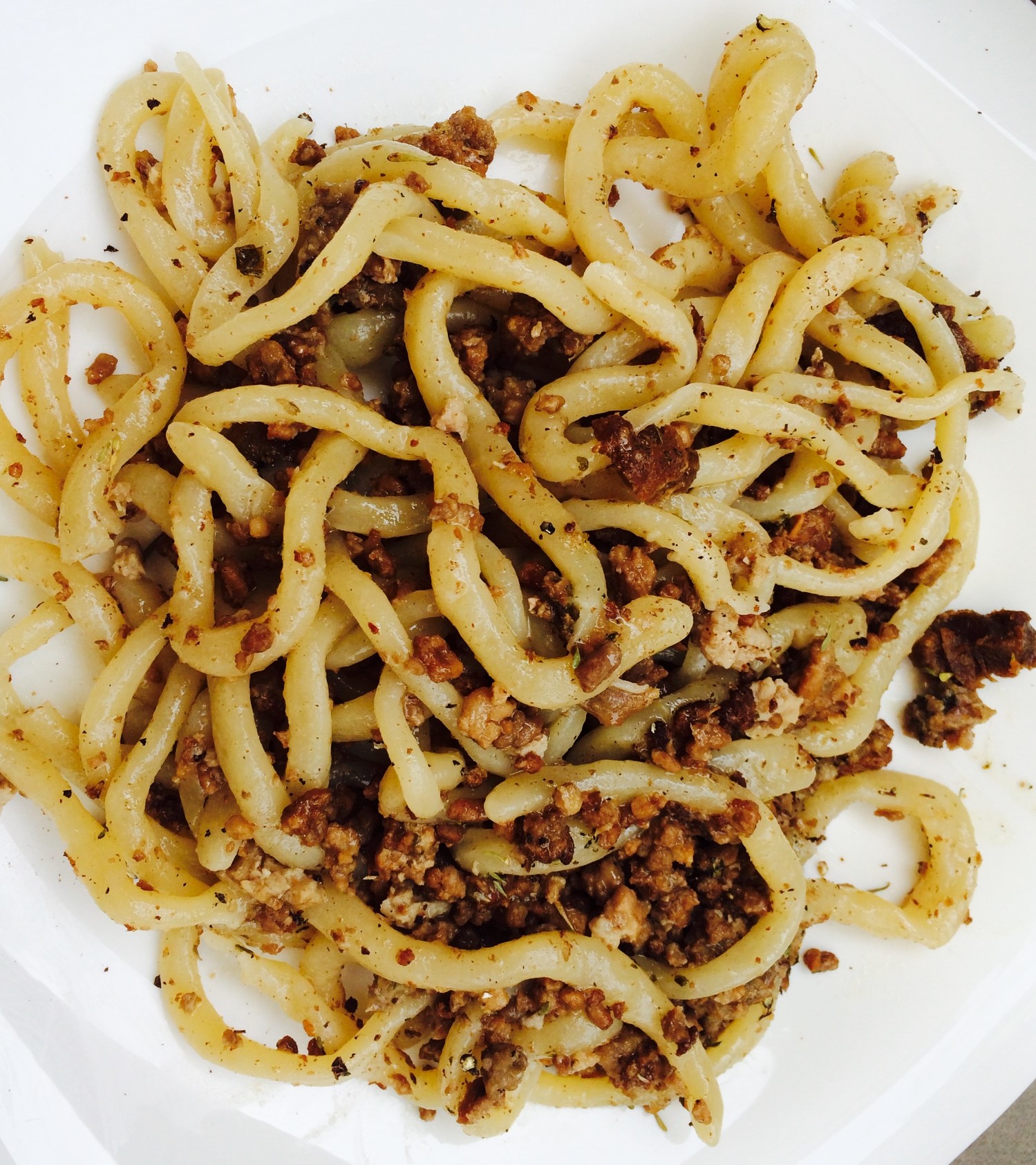 La Botte Piena happened to carry the wines of Tenuta di Trinoro and Passopisciaro, so we had the 2012 Guardiola Chardonnay with our meal and grabbed a 2010 Le Cupole to take home to Dad so he could get a taste of where I'd be working. After lunch, anxious to get rid of us I'm sure, the owner suggested we walk the trails outside of the city, which provided a lovely look at the surrounding countryside, as well as a chance to grab some wild figs.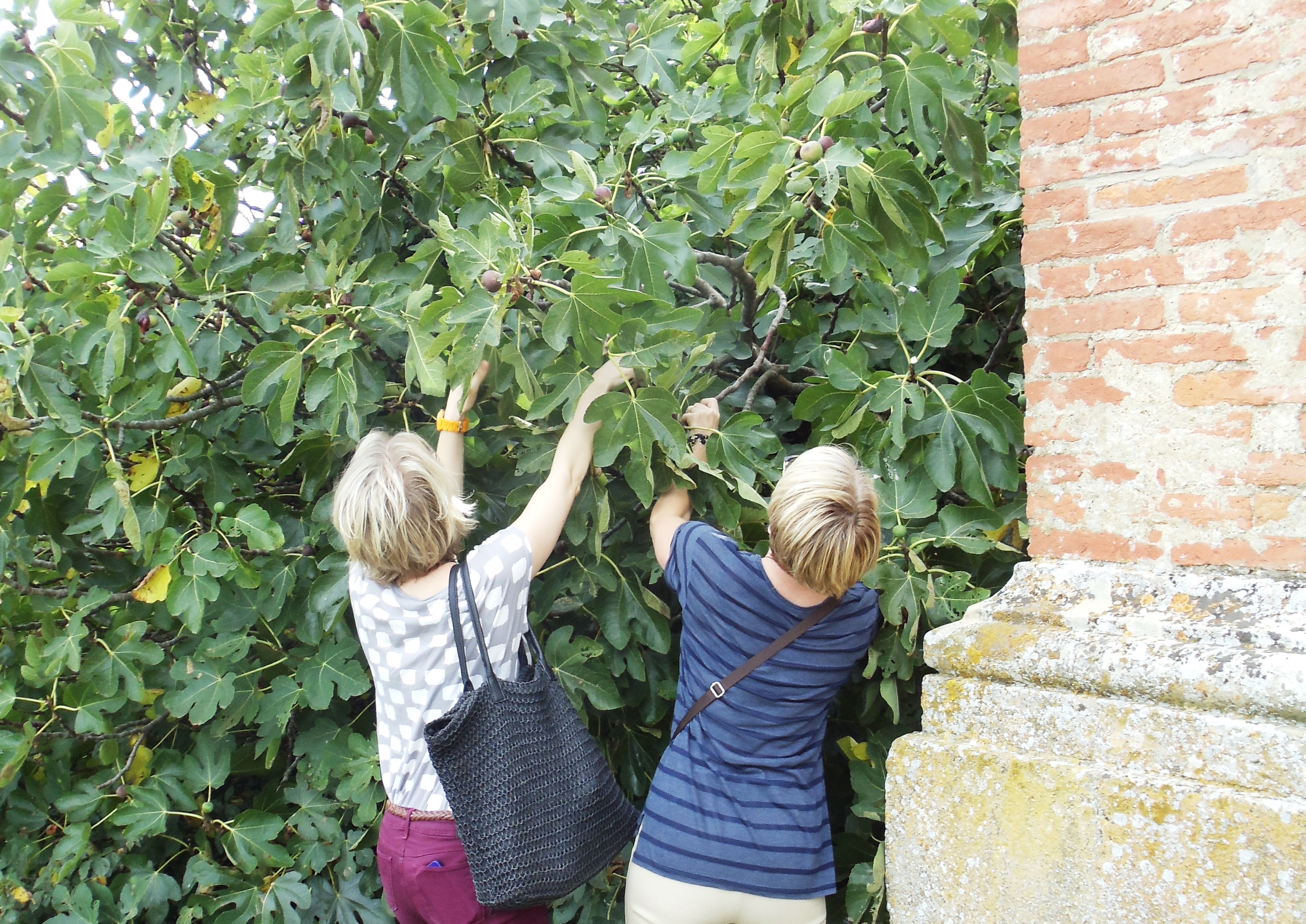 After our walk, around the town, we finally made it to Montepulciano and fell in love with its quiet meandering streets, such a breath of fresh air after the tourist-packed San Gimignano. We popped in and out of the local artisanal shops, selling handcrafted leather goods and beautiful ceramics, and listened to the street guitarist. Before dusk began to fall, we headed back to Florence and grabbed dinner in the Santa Croce neighborhood at a restaurant called Boccadama, right in the piazza of the church, where I helped myself to a heaping portion of their homemade lasagne al forno.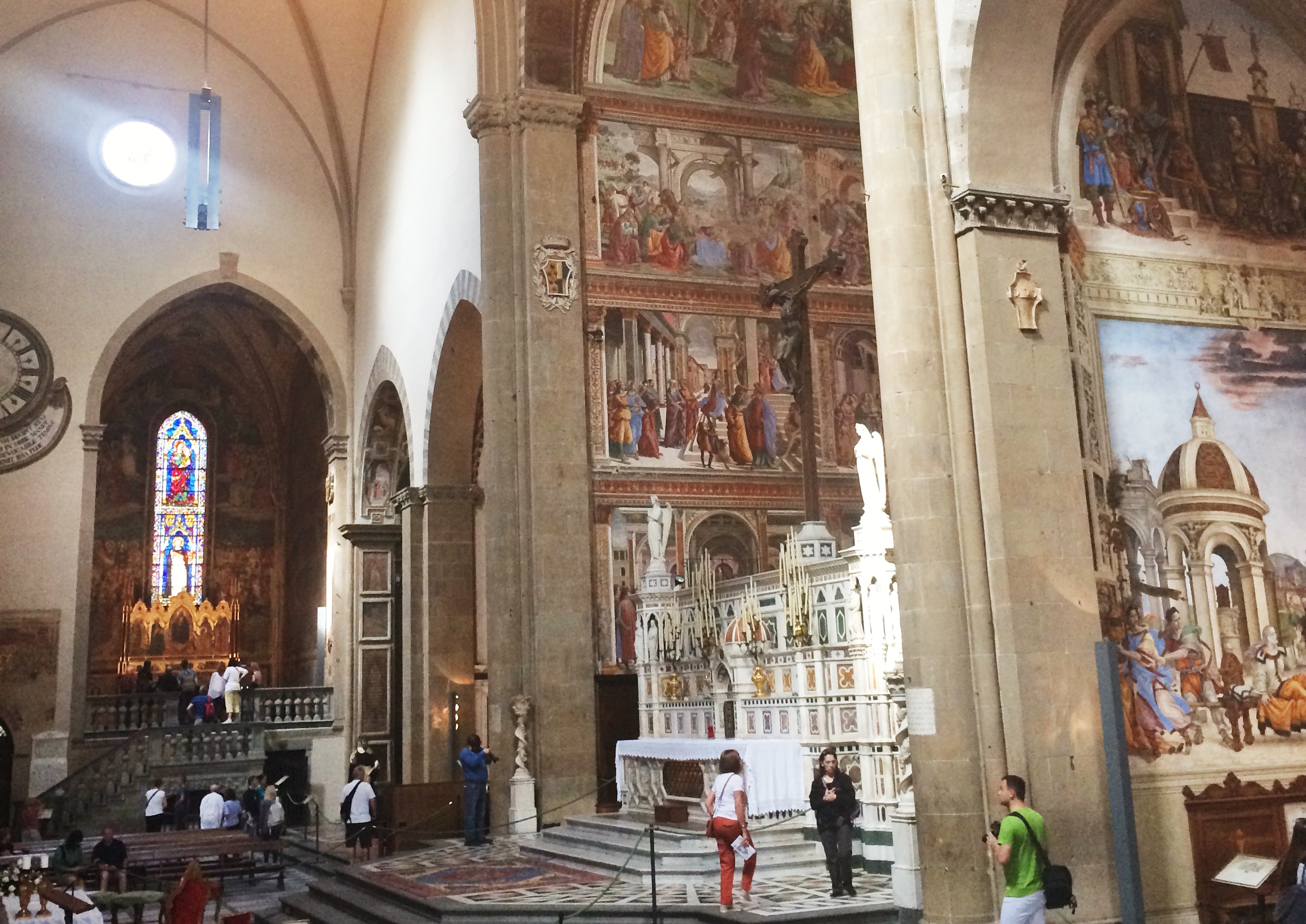 On our last day together, we met at Santa Maria Novella, spending the morning looking at the beautiful Renaissance façade of the church by Alberti, and once inside, at the works by Giotto, Ghirlandaio, Masaccio, and other masters. From there, we wandered over to the original Bottega Veneta shop on piazza Ognissanti, where the family who developed the famous woven leather design still works with leather, now under the family name Bottega Giotti. Then, lunch with the garden club group on the top of the former Excelsior hotel overlooking the city and a walk through the Mercato Centrale and the areas of Florence just north of the Duomo, before heading to a special dinner at the home of the Ginori family in their centuries-old palazzo off of the piazza San Lorenzo, where we saw early Renaissance frescoes and beautiful works by Della Robbia, gorgeously appointed period rooms kept well conserved, and of course the family's own ceramic designs. Finally, we bid each other adieu after a negroni sbagliato at Mom's hotel in the Oltrarno, with a lovely view of the Ponte Vecchio behind us.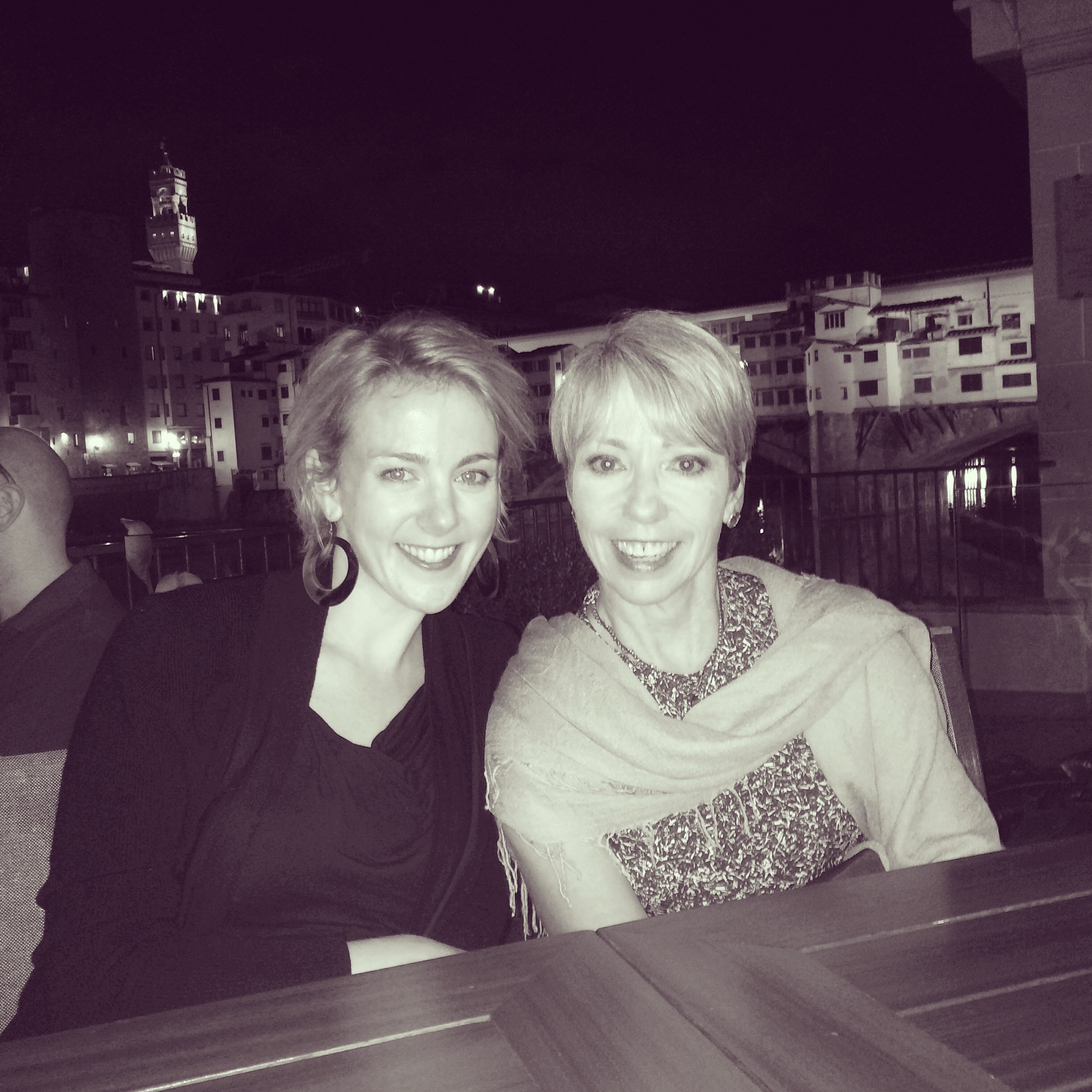 Places to stay:
Croce di Malta
: Via della Scala, 7 ◆ 50123 Florence, Italy ◆ +39 055 261870
A stone's throw from the piazza Santa Maria Novella, this hotel includes a beautiful arched reception made of the Florentine pietra serena and is walking distance from the main train station. Neat, simple rooms that are slightly cramped due to too much furniture, but if you get a room facing the back, you have a great glimpse into the lives of Florentines going about their days. $$
Hotel Lungarno
: Borgo San Jacopo, 14 ◆ 50125 Florence, Italy ◆ +39 055 27261
This is rareified living on the opposite side of the Arno, with the hotel's northern side dropping straight down into the riverbank. Owned by the Ferragamo group, their products fill the rooms, and you get free access to see the Ferragamo museum if that's of interest (I'd recommend a quick jaunt down to Santo Spirito to see Brunelleschi's peaceful masterpiece instead if you're short on time). The rooms are huge, albeit quirky, and the view from the bar is unbeatable. $$$$
Places to eat:
Buca Lapi: Via del Trebbio, 1/r ◆ 50123 Florence, Italy ◆ +39 055 213768
A wine list dominated by the wines of Antinori and a menu by Tuscan staples like wild boar pasta sauce and bistecca alla Fiorentina. The desserts are tough to beat. $$$
Boccadama: Piazza Santa Croce, 25/26r ◆ 50122 Florence, Italy ◆ +39 055 243640
Delicious, hearty, rustic fare in a prim, well-appointed setting right in the piazza Santa Croce. With nice weather, all seating is outdoors. $$
La Botte Piena: Piazza Dionisia Cinughi 12 ◆ 53049 Torrita di Siena (Montefollonico), Italy ◆ +39 0577 669481
Worth the detour on a nice afternoon. The first page of the menu highlights what's in season, and the rest details house and regional specialities. Extensive wine lists representative of various Italian regions, and you can buy a bottle to take away as well. $$