I love older wines, those savory notes of earth, stewed fruits, honey, spice. But space is limited in my home, and I've yet to get into the good collector's habit of buying wines by the case and slowly working my way through the bottles as they evolve. Instead, I hold on for dear life to the one or two bottles I have of a wine in a vintage, never quite sure of what occasion deserves them, and I count my lucky stars when I have the opportunity to taste wines others graciously open for me, as the experience is always memorable, however large or small the occasion: a 1934 Simi Cabernet to celebrate 150 years of uninterrupted production, a 40-year-old Kopke white port alongside the Douro on a trip to Portugal, a 1986 Latour popped the first time I tasted grass-fed beef from my aunt's farm.
While some customers will buy allocations of wines they love and keep them to evolve over time, others spend time scouring auction catalogs and the hundreds of lots listed therein, many (like me) are looking for wines to buy and drink now, but don't necessarily want the newest vintages. It's not as easy though as finding a local liquor store and buying the oldest wine they have on their shelves: it's all about sourcing and storage, making sure that each bottle has been treated to the right cellaring conditions before they come into your hands.
The trick to buying, cellaring, drinking and enjoying older wines is easier than you might think: trust an expert. It's a daunting task to try to piece together information on regions, vintages, formats, and producers, fearing that you might commit infanticide, or worse, let a once wonderful bottle fade past its prime. That's why I am more than happy to ask those whose business it is to know wine: the retailers who know their specific inventory. Good wine buying teams will find ways to seek out these older vintages from producers they enjoy, many that aren't necessarily on the market, through means like leveraging relationships with wineries to buy library wines, buying back from existing clients, or frequenting auctions, so you don't have to.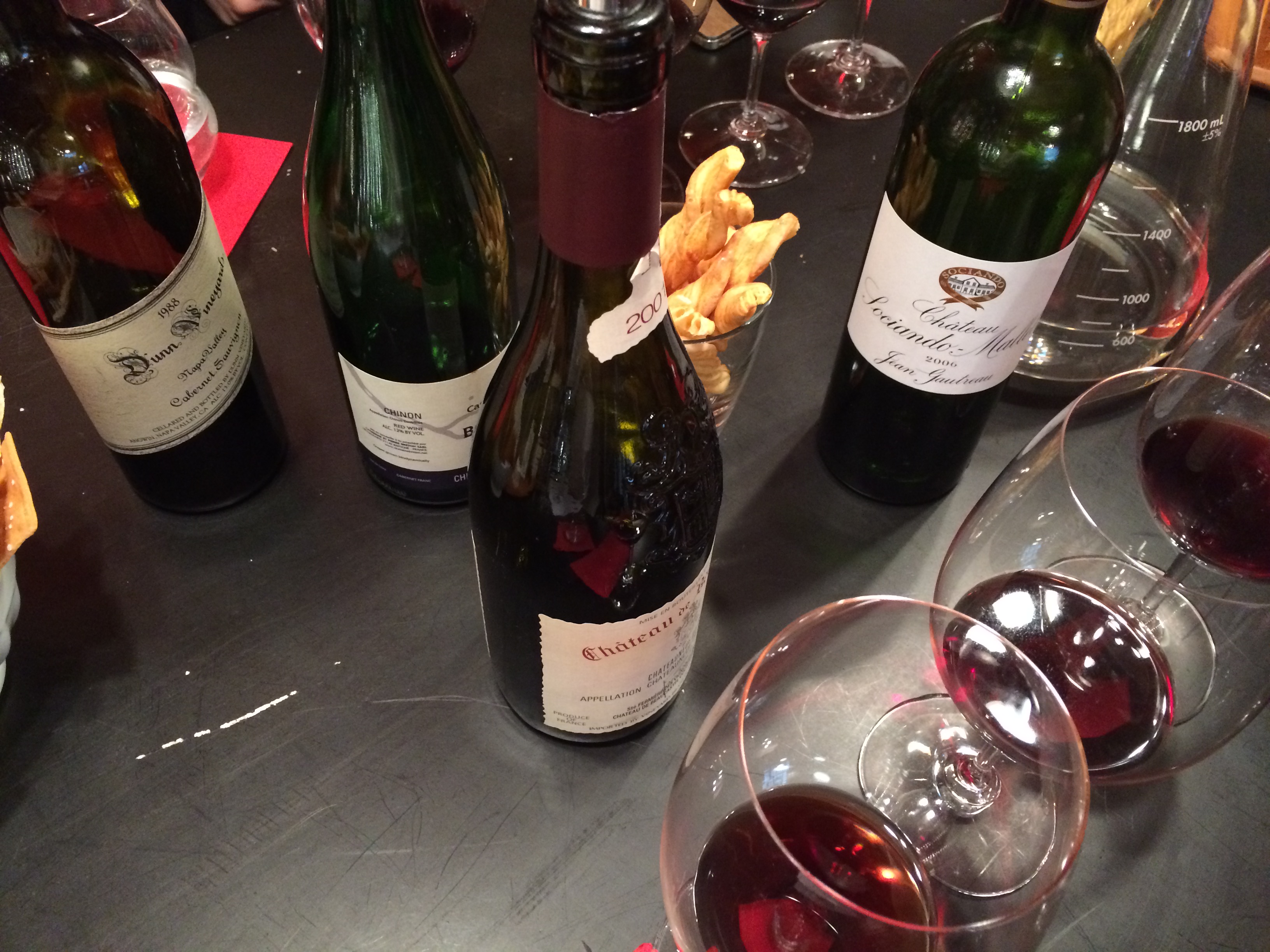 And yet within the category of "older vintages," every wine has its own specific life cycle, and that's where your trusted expert comes in. They will know the exact wines they are offering you since they worked to source the bottles, whether to open with dinner or save for a special occasion. They can also talk customers through some of the most common issues with older vintages, many of which are not actual defects but which can nonetheless take a buyer off guard: sediment, decanting, moldy corks (note: it doesn't necessarily mean a wine is corked, just that moisture trapped when the foil was put on in cellar!), and more.
To understand the specificity of a wine's life cycle (as research for this article for Departures), I tasted through some of the vintage wines on hand at 24 Hubert in New York's Tribeca neighborhood, selected from styles and producers they've sourced across a range of price points. From a delicate, drink-now Chinon is delicate, needs to be consumed now, to a Napa Valley Cabernet drinking at its peak; from the Rhone's Beaucastel, just starting to drink really beautifully but with another 8-10 years before it reached its peak, to a Bordeaux that was still quite young and thus needed to decanting to aerate (it could age another 20 years), it was fascinating to explore the variety of styles and signs of age across vintages and regions. For full tasting notes, see slideshow notes.
The key with buying these old wines is to move when you see something you like: although pricing will often reflect the fact that these wines have been cellared and thus are higher than current vintage releases, quantities are always limited (since our tasting, these older vintages have moved off their shelves, although they've still got a great stock of other years from these producers), so it's worth it to jump on wines and producers you enjoy or that your expert recommends for you.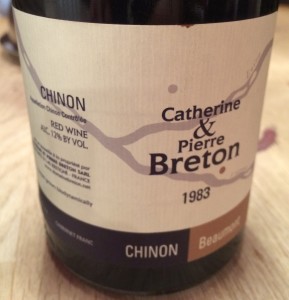 AGING CHINON AND BOURGUEIL FROM THE LOIRE VALLEY
First, we tasted a 1983 Chinon from Catherine & Pierre Breton, a husband and wife team which focuses on creating a pure, more acidic expression of Cabernet France through organic winemaking practices. The style of wine is polished and rich, with the touch of rusticity that is so intrinsic to Chinon. The '83 is garnet-colored with an orangey rim, a sure sign of development, yet it's still fruit-froward and aromatic. Crushed dried violets, betadine, slate soil, and a whiff of roasted green pepper waft up from the glass, and after a sip, you could still taste that kick of black pepper that I love in Chinon. Other notes include pepperoni pizza, potpourri, and cranberries, balanced by a strong backbone of acidity. "It's important to know the producer if you're looking for an age-worthy Chinon; Breton makes a bigger style of wine that holds up as it ages, going from explosive fruit to rusty iodine," says Rose Masterson, the shop's general manager. The 1976, which they'd ordered at the same time and which a single customer bought the whole supply of, was "still powerful, but fading," while the 2012 currently on the selves is "muscular and powerful, but not so big that it needs to be decanted for hours." I kept returning to the glass to see how the Cabernet Franc evolved in the glass, showing its supple, savory qualities more with time. They've since sold out of the vintage, but they've got a '97 Bourgueil on the shelves for the phenomenal price of $81, while those with space can lay away the current vintages for the next 30 years for only a fraction of the price (they're retailing for around $32/bottle).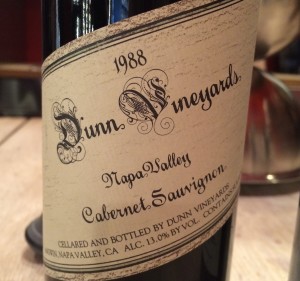 AGING CABERNET SAUVIGNON FROM NAPA VALLEY
Jumping to California, we tasted Dunn Vineyards, 1988 Napa Valley Cabernet Sauvignon. Randy Dunn, winemaker and founder of Dunn Vineyards, produces a Napa Cab that is as refined and classic as a left bank Bordeaux. "The fruit is more restrained, the wine more structured, built for cellaring and aging; what's more, prices have always been reasonable and consistent," says Alex Sherber, wine specialist at 24 Hubert. In short, he's not your average California producer. And although his Howell Mountain bottling is a cult favorite, his regular Napa Valley wine has always been listed at a fair price — which made this 1988 a steal at $165. It was showing clean and fresh, with some leather, funk, and cedar notes coming through. The palate was juicy with bright acidity, alongside notes of pepper, cinnamon, and blackberry. In terms of development, it was starting toward fruit leather and hickory smoke, with those tertiary notes weaving a complex fabric with the powerful fruit concentration and fine tannins. It really lingered on the palate, savory yet lush. "It's drinking really well right now; I'd say it's at its peak now and has at most another five years," says Scherber. It's worth stocking up on the 1998 they have on the shelf in the meanwhile ($150/bottle).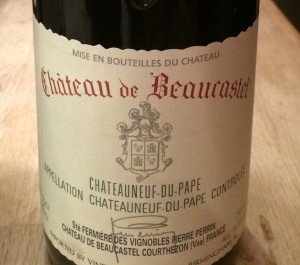 AGING REDS FROM THE RHONE VALLEY
We jumped a decade to taste Perrin & Fils' 2001 "Chateau de Beaucastel" from Chateauneuf-du-Pape ($200/bottle). Highly aromatic with notes of smoky chorizo, dried rosemary and violets, and roasted red pepper on the nose, this wine had a lovely softness and mellow quality in the mouth, a texture I adore finding in wines. It was still quite full bodied, balanced by good alcohol and acid structure, with bright, juicy flavors of roasted red fruit, brambly, savory, and even a little gamey all at once, hallmarks of great Rhone wines, with a long, silky finish. This wine uses all 13 permitted Rhone varieties, with a focus on Grenache, Mourvèdre, Counoise, Syrah, and Cinsault, so it can take awhile for these varieties to come together; "the younger vintages often have to be decanted, like the 2010, which is currently drinking grippier, grapier, and rougher on palate," says Scherber. It could age in bottle another 8-10 years before hitting its peak.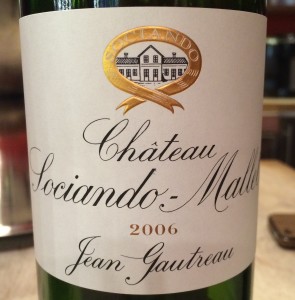 AGING BORDEAUX
We ended the tasting with a 2006 Chateau Sociando-Mallet a relatively young wine from the Haut-Medoc in Bordeaux. Produced by Jean Gautreau, one of the most respected Bordeaux winemakers for over half a century, the nose on this wine was rich and aromatic, full of notes of blue fruit and black pepper, underscored with bright minerality. The palate was fuller, reflecting the relative youth of the wine: the fine tannins were still grippy like suede and despite two hours of decanting before tasting, it was still taut. A relative steal for good Bordeaux (it is always around $50-75/bottle), this muscular wine is one to throw into the cellar for 30-50 years, letting time soften its more masculine edge. Since it's classified only as Haut-Medoc, it's great money for the quality.