Winemaking as an art is something people, myself included, often talk about, but it's a concept that's just as hard to wrap your mind around as terroir, until you've experienced it yourself. Just what makes every bottle of wine unique is a whole slew of consecutive moments, some things that just happen (heat, rain, the vintage as a whole), others where more active decisions take place (how you prune and train the vines, destemming, oak regime). I've seen and participated in many of these moments, but never that important process where a wine is actually made — that is, where the blend is determined, where grapes from one vineyard site are singled out as a stellar parcel, the rolling around of vat samples across your tongue to sense quality / taste / structure / longevity as components of a potential whole, to perceive how those parts might come together. That changed for me today when I tasted through the entirety of barrel samples of Tenuta di Trinoro's 2015 vintage with Andrea Franchetti and his assistant winemaker Teresa Gaspar.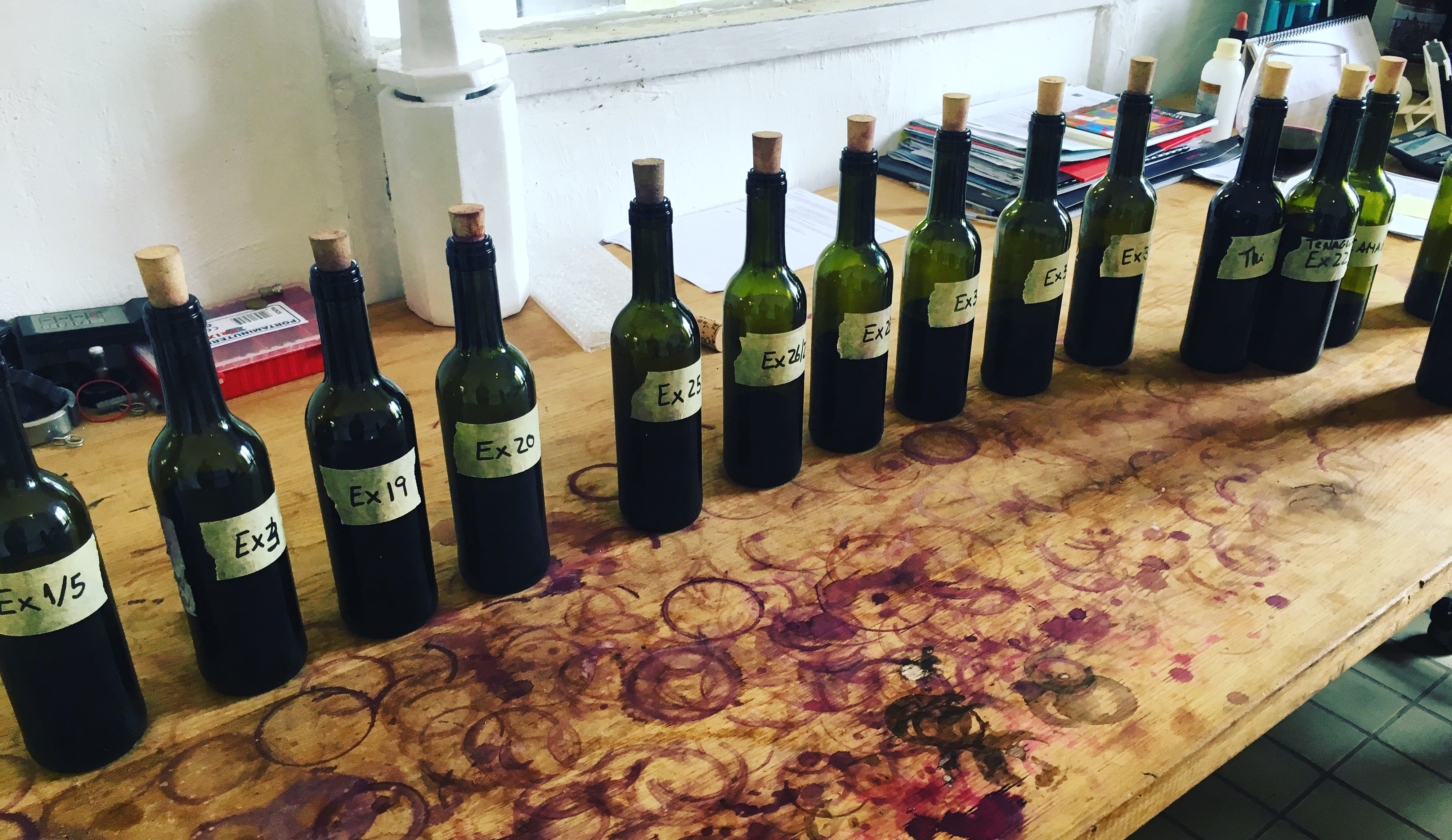 Since every plot at Trinoro is vinified separately, it's easy to follow the evolution of each parcel from pick date to type of barrel it's aged in, at least all this I understood intellectually. Yet to taste through each vat side by side was to understand the individual qualities of the fruit from each vineyard and the artistry needed to bring the range of flavors together, given the restrictions that quantities available might impose.
It was astounding to experience the range of flavors across 43 separate fermentations of these Bordeaux varieties (which seems like a crazy number for such a small estate, but such is Andrea's approach): Merlot that ranged from powerful, blue-fruited, and peppery from Strada Vecchia to fresh, joyful, exuberantly fruit-forward from Cavalli Sud (these, the names Andrea has given each of these parcels of land); Cabernet Franc that is dense, solid, age-worthy from Costa Cocceto, or floral, mineral, layered from Tenaglia Ovest; Sauvignon that was quintessentially, rustically Italian, yet showed so fresh from the Piano while so dense and serious from Camagi; Petit Verdot that ranged from strangely fruit-forward above Palazzi to structural from the terraces that line the uppermost range of the estate.
In the end, you are tasting not just for the wine that would drink well now, but at least in the case of Trinoro, the blend that shows a depth and solidity that will blossom and evolve with time. My blend veered toward the exuberant, the fresh, the now, Andrea's toward something more contemplative, deep, sonorous; yet these vast differences were all based on the parcels we chose to highlight, as I followed the percentages of Cabernet Franc, Merlot, Cabernet Sauvignon, and Petit Verdot he was drawn to. Experience, artistry, some of both… it's the bringing together of the grapes, the terroir, and all of those consecutive little actions in a final moment of reflection on a vintage by the winemaker. I suppose that's what I now understand the art of winemaking to mean — the tabula rasa of each vintage becomes its own masterpiece, with the final brushstroke from the winemaker's hand.