Originally published on Departures.com
Ideal summer sipping requires something refreshing, and there's nothing more thirst quenching than rosé. Because it's a style of wine that is made with red grapes, there's a lovely structure that provides a backbone to even the lightest rosés, and those light, salmon-pink wines often have an aromatic subtlety and citrusy minerality that we find just so, well, refreshing.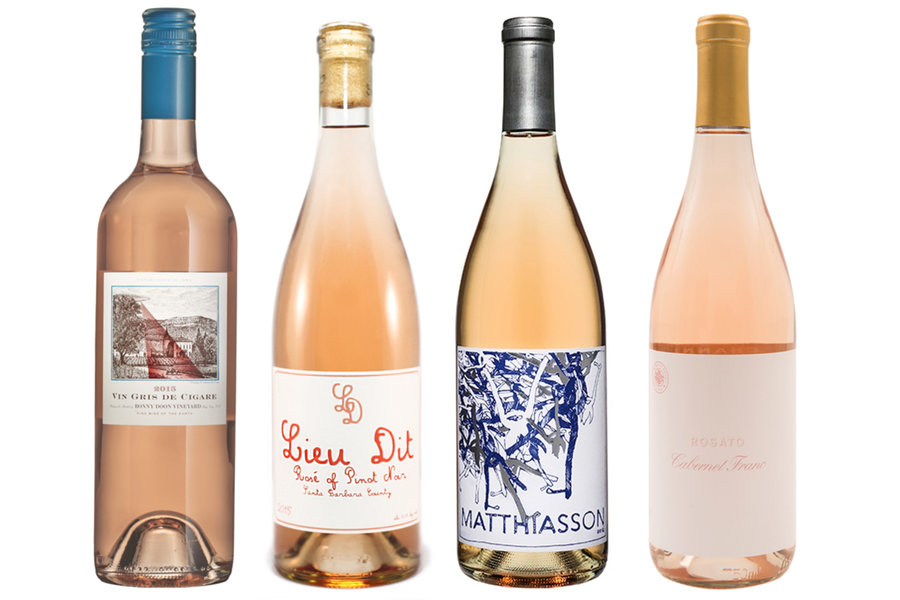 This summer, our search for something different than the standard setter Provence has taken us home: Winemakers across the U.S. are producing creative, dry, light rosés with all kinds of grapes. From blends that recall those made in southern France to single-variety wines made from grapes both expected and surprising (a Northern Californian rosé using a traditional Portuguese varietal, anyone?), there is much to explore from coast to coast. What's exciting is the variety available within this year's current release, and all of these, and more, are worth exploring as the days continue to heat up. Here within, a few suggestions to get your summer started:
Bonny Doon Vineyard, Vin Gris de Cigare 2015
Grapes: Grenache, Grenache Blanc, Carignane, Mourvèdre, Cinsault, Roussanne
A lovely, aromatic wine from Randall Grahm, an eclectic producer from California's Central Coast that specializes in Rhone varieties. Its notes of candied rose petal, raspberry, strawberry, and lemon peel meld beautifully, and its creamy texture is brightened by a fresh, minerally finish. This vintage's elegance and complexity make it a must for the summer.
$18; bonnydoonvineyard.com.
Matthiasson, Rosé 2015
Grapes: Syrah, Grenache, Mourvedre, and Counoise
Peaches, watermelon, and lemonade: the fresh fruit notes, balanced by bright, citrusy acidity, capture summertime in a bottle. Surprisingly, the 2015 vintage from this Napa Valley–based producer was picked in July, but the decision to harvest that early (at least one month early, in fact) produced a crisp, light pink that at only 11.5 percent alcohol makes it the perfect picnic and poolside wine for the summer.
$23; matthiasson.com.
Lieu Dit, Rosé of Pinot Noir 2015
Grape: Pinot Noir
Using Pinot Noir from Santa Barbara County's famed Sanford & Benedict vineyard in Santa Rita Hills, this rosé is delicately juicy and refreshing, slightly reminiscent of watermelon agua fresca with a mineral underpinning. A touch of elegant tannins rounds out the wine, making it a wonderful pairing for any seasonal meal.
$30; lieuditwinery.com.
Channing Daughters, Rosato di Cabernet Franc 2015
Grape: Cabernet Franc
Based on Long Island's South Fork in Bridgehampton, it's no wonder that this producer was inspired to produce a series of rosés to quench the Hamptons thirst for the stuff. Winemaker Christopher Tracy's approach explores the nuances of a variety of red grapes, showing distinct differences in each of their Molti Rosati (Many Rosés) line of wines. Our favorite is the Rosato di Cabernet Franc, with its clean, peppery mouthfeel and hints of blackberry and raspberry.
$20; channingdaughters.com.
Birichino, Vin Gris 2015
Grapes: Mourvèdre, Grenache, Cinsault, and Rolle
A perennial favorite for its value, this fruit-driven pink shows bright, ripe notes of strawberry and cherry alongside more floral hints of rose petals. This vintage is richer and a touch sweeter than past releases due to the addition of mourvèdre (the grape best known for the rich rosés it produces in Provence's Bandol).
$17; birichino.com.
Arnot-Roberts, Clear Lake Rosé 2015
Grapes: Touriga Nacional, Tinta Cao
Red grapes traditionally grown to make Port, Touriga Nacional, and Tinta Cao don't often find a home outside of Portugal's Douro region, but Arnot-Roberts makes beautiful use of a selection of these grapes planted in California's Lake County. Layers of flavors burst from the glass, from red apple tossed in lemon juice to white blossoms, its ripeness providing a lush appeal that is balanced by a pure, wet stone minerality that keeps it lean and fresh on the palate.
$26; crushwineandspirits.com.