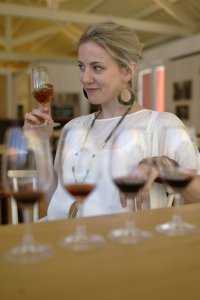 Sarah H. Bray is a communications professional with a background in editorial and brand content creation, strategic development and implementation, and a strong knowledge of digital marketing and web presence.
With seven years of wine writing experience, she is a frequent contributor to The Sommelier Journal, Departures, SAVEUR, The Tasting Panel, and other publications. She has formerly worked as the associate director of digital marketing and development for SAVEUR and brand strategist for the wine auction and retail divisions at Sotheby's.
She currently holds an Advanced Certification from the Wines & Spirits Education Trust and is a Diploma candidate. Ultimately, she is a wine-lover in pursuit of defining the nuances of the bottles she has loved, exploring new places through new tastes, and finding enjoyment in a simple yet excellent glass of wine with friends and family over dinner.
Visit her portfolio site sarahhbray.com for more information.
Email: sarah [at] sarahhbray [dot] com
Instagram: @sarah.h.bray
Delectable: @SarahBray
All thoughts and photos posted here are proprietary, unless otherwise noted, and should not be used or re-purposed without express permission.