I love flipping through old notebooks and stumbling upon notes that remind you of a meal, a bottle of wine, a low-key but happy memory. That's what happened tonight when I was going through my look-alike pile of black Moleskines to see what I should include here, toss, or file away: a few hand-scribble recipes for Julia Child's quiche au Roquefort and pâte brisée and bottle notes on the 1981 Chateau La Tour Figeac. A happy memory of visiting the family summer home of my dear friend Anna in Vermont's Northeast Kingdom a few years ago.
Here, in this lake-side house owned by her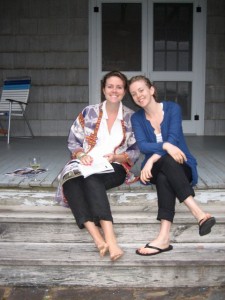 Norwegian grandparents on their sojourns up from Greenwich, her mother grew up and fell in love with Vermont, ultimately moving here to have and raise her children. The family's stark, Scandinavian style still dominates, as does the sense of stillness, of getting away from a faster-paced world: there is no internet, no TV, nothing to do but sit, read, walk, and visit the town's library, where I hand-copied the recipes found in my notebook to cook a thank-you meal for Anna and her mother.
They'd brought up a delicious wine to open with me, thinking I might appreciate it, so I pulled together a meal that I hoped would complement the wine and that they would enjoy—these are eaters who prefer a lighter repas, usually with little red meat, the obvious pairing choice. Knowing that the Vermont cheese coop Jasper Hill was nearby, I thought about putting a blue cheese at the heart of the meal, replacing the Roquefort of Child's recipe with their rich, ripe Bayley Hazen. Looking through the recipes, I remembered the fun we had cobbling this meal together, rolling out the dough with the bottle we'd just decanted through a coffee filter, the cork having crumbled into the wine. Two hours later, both the wine and quiche were ready for us.